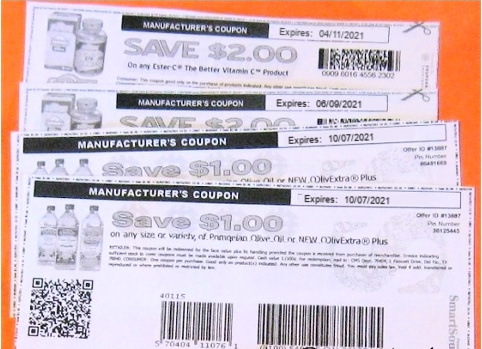 Find printable coupons HERE.
Most websites (including The Peaceful Mom!) list the date the coupon was found in the newspaper followed by an abbreviation of the coupon insert. (Example: 2/7 PG would be a coupon found in the Proctor and Gamble coupon insert from the Sunday newspaper dated February 7th.)
ABBREVIATIONS
Types of Inserts
PG – Proctor and Gamble separate coupon insert with coupons for P&G products only. This is usually in the newspaper the first Sunday of the month.
RP – Red Plum is a company which prints coupon inserts found in the Sunday paper and also provides printable coupons online.
SS – SmartSource is a coupon distributor which prints coupon inserts found in the Sunday paper.
Types of Coupons

PC – Printable Coupons are coupons that you print off of the internet.
MC – Manufacturer's Coupons coupons printed by the companies who make the products in the store. You can find them in newspapers, magazines and other locations.
SC – Store Coupons are coupons that are issued by a store that can only be used at that store.
Peelies– small coupons found directly on products in the store.
Blinkies– coupons located in dispensers throughout the store.
Other

BOGO – Buy One Get One- When you buy one product, you a second product for free
BOGO 50% off- When you buy one product, you get a second product of equal or lesser value for 50% off
OOP- Out Of Pocket-The amount of money you have to spend in order to make a deal work
Stacking -using more then one type of coupon on any one product. Publix allows you to use a Publix store coupon or competitor store coupon (check with your store to see who they consider a competitor) combined with a manufacturer coupon on the same item.
WYB– When you buy (Example: $2 off wyb Covergirl Mascara)
For more information on using coupons effectively read this post. For information on saving money on groceries go here.