UPDATE: I now use the Joyful Life Playbook and Planner to stay organized!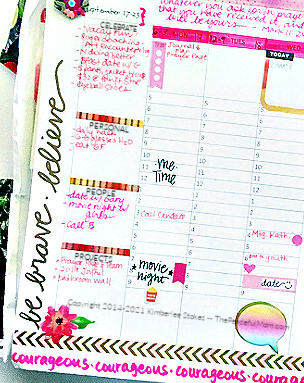 It's January and it seems like every magazine, website and morning show is telling us once again how to "get organized". The articles make it seem so easy, but I'm not a "file-folder thinker", nor am I a file folder user.
In my constant quest to get organized I recently made my "Brain in a Binder".
I bought a large binder with a zipper and a strap so I can easily take it with me (if I remember!). I used plastic 2 pocket page dividers because plastic is water-proof and two pockets are better than one.
I thought about fun categories like "What Your Checkbook Should Look Like But Doesn't" (budget), "Stuff You Don't Want To Do But Have To" (to do list), "Stuff You Should Do But Probably Won't" (long-term goals) and "Things To Get The Kids To Clean Because You Don't Want To", but I decided on using more boring titles:
*MORNING– morning routine, weekly calendar, exercise log
*MENU– weekly menu, grocery list
*TO DO– list of long-term projects
*SCHOOL-home school attendance, field trip list, curriculum
*FINANCES-spending record, budget, bills
*CHURCH-event calendar, children's ministry schedule
*BIG PICTURE-long term goals
*MARRIAGE-personality tests, ideas for romantic get-aways
*CHILDREN-personality tests, goals, medical info, their passwords
*OTHER– passwords for online accounts, blogging ideas
I'm very proud of my brain. My only concern is now that I "have everything together", I hope I don't lose it.
You May Also Enjoy: