Hi Friend! Ready for Day 3?
Did you complete your Big Money Vision Board yesterday? Your vision board can be an ongoing project, but you should at least write a few words describing what you want to see in your financial life.
In addition to saving $1 to $5 a week toward your Big Money Dream we are going to set a target savings amount for this month.
You can use this money to start or boost your emergency fund, to pay down debt or to save for another goal.
As Zig Ziglar said,"If you aim at nothing you will hit it every time." In order to hit your savings target you will need to make it:
Specific – Choose an amount and a time frame. For example: "I will save $300 in the next 3 weeks."
Realistic – If you make $2000 a month and your goal is to save $2000 you probably won't make it. Choose a number that you can reasonably reach.
Challenging – While you want to be realistic, you also want to challenge yourself a bit. Choose an amount that you think you will be able to save and then add $50 or $100 to it.
Visual – In order to meet your goal you will need to post it where you can see it on a regular basis.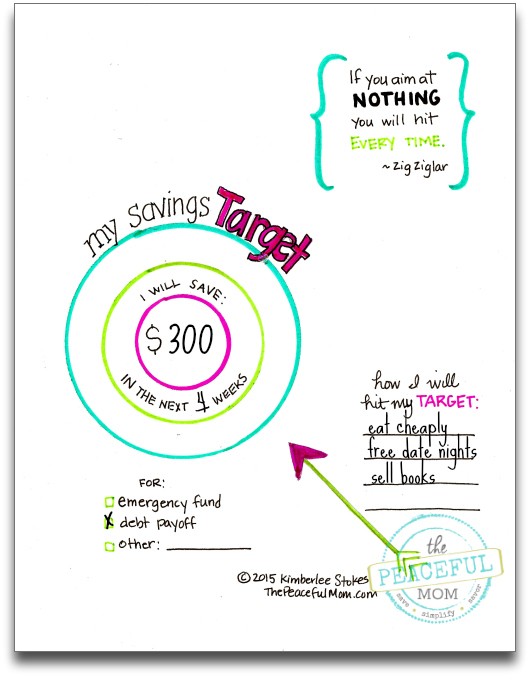 Here's a peek at our Savings Target for the Money Makeover. I've created a printable version so you can create your own.
Today's Money Mission: Print and complete the Savings Target page here. Choose an amount to save, your purpose for saving it and a couple of ideas to help you reach your target.
In my next post I'll share some simple ways that you can start moving toward your target number.
For now, click HERE to email me  and tell me your target number and what you will be saving for.
Talk to ya' tomorrow!
Kimberlee