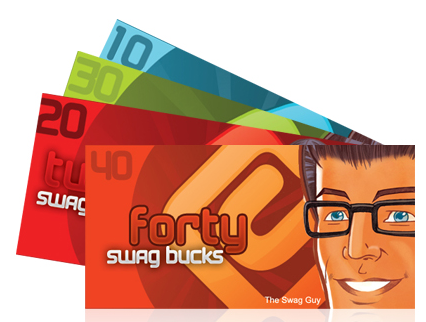 If you've been around The Peaceful Mom very long, then you know that one of my favorite ways to earn free gift cards (which I use to purchase Christmas gifts and other items from Amazon!) is by using Swagbucks.
And you probably signed up a long time ago too, but for those of you who haven't signed up yet or who aren't earning much, today I'm sharing 10 easy ways to earn Swagbucks so you can start earning free gift cards too!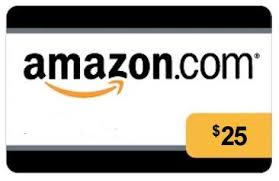 What are Swagbucks?
Swagbucks began as a search engine that you could use to earn rewards by doing searches like you would through Google. You would randomly be rewarded around 5 to 10 Swagbucks per day which you could then redeem for rewards like Amazon and Starbucks gift cards.
In the past few years, they have expanded to include MANY different ways to earn which makes it so much easier to earn more SBs and cash in on prizes. Some of the most popular ways to earn Swagbucks are doing online searches, signing up for offers, printing coupons, completing special offers, or taking polls.
I know a lot of survey companies say they offer cash or rewards then never seem to actually give you the opportunity to complete surveys or make you so a lot of work for very little reward.
Swagbucks is different because it actually works. My husband and I have earned many gift cards over the years that we have used to purchase Christmas gifts, books and lots of items from Amazon.
Click HERE to sign up for a free account!
How Do You Redeem Your Swagbucks?
Once you've earned enough Swagbucks to cash in for a gift card, just log into your account and request your gift card. You'll have to confirm your request and then your gift card will show up in your email within a few days.
There are dozens of different gift cards to choose from, but my favorite is the $5 Amazon gift card for 500 SBs each. This seems to be the best deal and you can use an unlimited amount of gift cards per order on Amazon.
Easy Ways to Earn Swagbucks Daily
Make a habit of logging into Swagbucks daily to do the following tasks: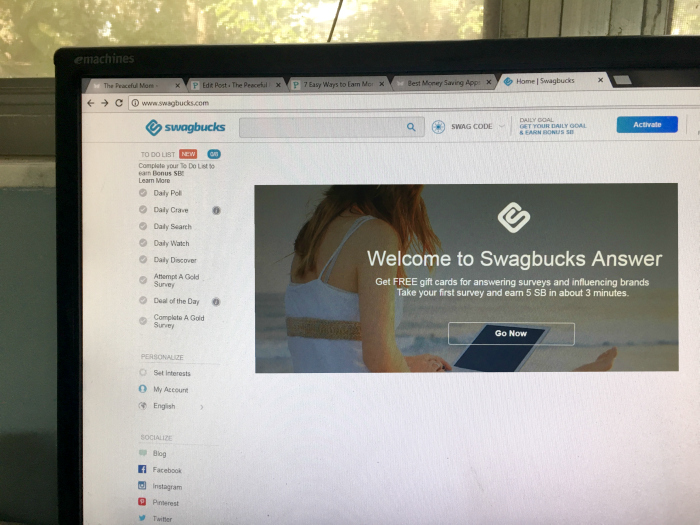 Complete the To Do List Every Day
When you log into Swagbucks, look on the left hand sidebar for your daily To Do list. Simply click on each of the items on the list and each link will take you directly to where you need to go to complete the task.
Most of these tasks can be completed in seconds and you'll be awarded a bonus if you complete all of the tasks on your list each day.
Check Your Swagbucks Inbox
Once you're logged in, click on the little mailbox icon in the upper right corner and check your Swagbucks inbox. Usually, there are a least a few offers there to help you earn easy Swagbucks — such as watching a video to earn 1 SB or clicking on an article to earn 3 to 5 SBs.
To make the most efficient use of your time, click on any email that is a 1-5 SB offer and then click through the link in it. You probably don't want to take much time on these, but if you can earn a few SBs in less than 30 seconds or a minute, it's worth the effort.
Easy Ways to Earn Swagbucks with Videos
Play Videos in the Background While You Work
You can earn up to 500 SBs per day by watching videos. Simply search for the following apps and download them from the app store:
Swagbucks Watch (TV)
EntertaiNow
Lifestylz.tv
Indymusic.tv
MovieCl.ps
Sportly.tv
You can also play videos directly on your desktop, but it may be more convenient to play these through an app on your smart phone or other device.
You can make it a habit to play the videos during set times in your day when you don't need your phone. You can turn off the sound and have the phone next to you while you're working on something else. Just check in periodically to see if a video has stopped playing and you need to engage in some way to restart the video.
Some readers have reported earning an average of 50 SBs a day just from the videos. Just a note, many of the videos are movie trailers or other content that may not be family friendly so make sure to have the sound turned down or watch the videos when the kids are not in the room.
You'll also want to make sure you have the most up-to-date version of the app, and keep an eye on your battery or do this while your phone is charging because watching videos drains the battery life.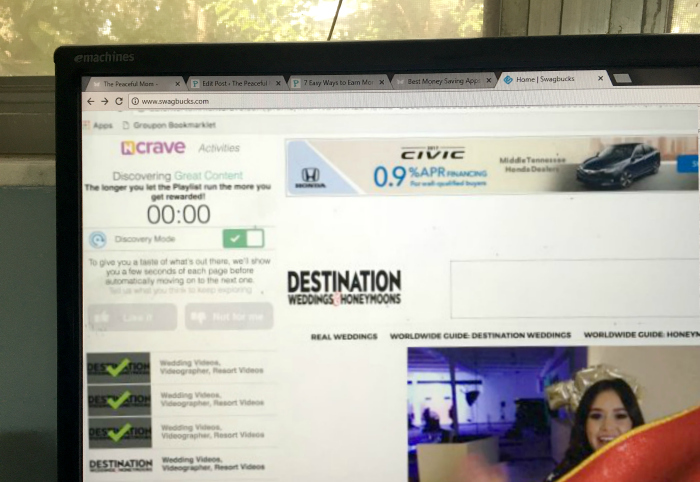 Run nCrave Videos
Another easy way to earn Swagbucks that requires very little effort is running nCrave videos in the background while you're using your computer. Just scroll down the homepage to find the nCrave section and click on a video to run it.
These videos will continue to play and earn points for you as long as you have the window open and periodically check in on the content to engage with it. Most of the time a notice will pop up when you need to engage with the content again for it to keep playing.
Watch Survey Videos
You can also  scroll down below "Peanut Labs Surveys" to the Offers section. Sort the surveys by lowest value then select Free. There are usually 5-10 offers each day that require you to click a video. Many times you earn the Swagbucks by simply clicking on the video. You don't always have to watch them.
Easy Ways to Earn Swagbucks with Surveys and Games
If you like to play games, try the Answer and Games sections of Swagbucks.
Answer Questions
Click on "Answer" then look on the far right side. You can earn 2 SBs for every 10 multiple choice questions that you answer, and I don't think there is a limit on this section.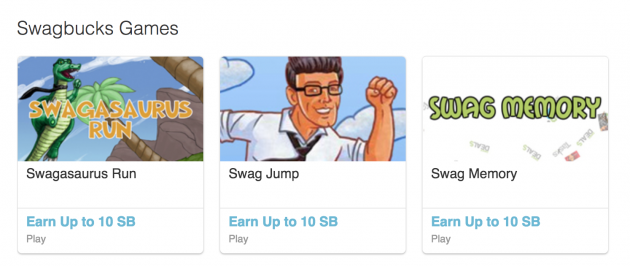 Play Games
Look under "Play" on the sidebar, scroll past the games that aren't free, then choose "Swagasaurus Run".  You get 2 SBs for every two games you play (which take about 30-60 seconds to play), and can earn up to 10 SB total per day.
Easy Ways to Earn Swagbucks By Shopping
Earn Swagbucks through shopping you would be doing anyway.
Print Coupons
Did you know that you can earn SB for printing coupons? To find the coupons, look under "Discover" and then "Grocery Coupons". 
You'll earn $0.01 per coupon printed (up to 100 SBs per day). Allow 48 hours for these to be credited to your account.
It also says that you'll earn an additional 10 SBs for every coupon redeemed in store, but it takes up to 12 weeks for these to show up in your account.
Book Your Travel Through Swagbucks
If you travel and purchase airline tickets or book hotels online, check to see if you can purchase them through Swagbucks! They offer great cash back deals for many travel sites. And typically, you'll be spending a few hundred dollars so your cash back can add up very quickly.
To book your travel, go to the "Shop" section on the left hand sidebar, then click on "Travel". Click the travel site you want to use, then allow up to a week for your purchase to show up as pending in your account.
Other Easy Ways to Earn Swagbucks
Refer Your Friends
Earn Swagbucks by sharing your referral code with friends. You'll earn 10% of their earnings for life!
Plus, Swagbucks often runs bonus offers where you can get an additional SBs bonus when they first sign up. (For example, at the time that I'm writing this post, you and a friend each earn an additional 300 SBs when they earn their first 300 SBs.)
Join the Swagbucks Swaggernauts Facebook Group
There is also a Facebook group called Swagbucks Swaggernauts that helps you to earn more. Be sure to read the pinned post at the top of the page because it's full of tips and hints. Members post new deals there that have worked and things to look for.
Tips
*You get a 12 percent discount on your first $25 gift card you redeem every month so you can redeem a $25 gift card at the beginning of the month (for 2200 SBs instead of the typical 2500) then let your SBs build up during the rest of the month to use later for birthday or Christmas gifts.
*Plan ahead a little because it takes a few days before the e-gift card is sent to you.
*If you get the Swagbucks app you'll get alerts for codes that you can enter for points. Sometimes there will be a special celebration when they send 6-7 codes in one day worth a lot.
Click HERE to sign up for a free account!
I would love to hear your tips for earning more Swagbucks so leave a comment. 🙂
Happy Swagging!
 
Want a simpler life?
Join our simplifying, organizing, life-changing community!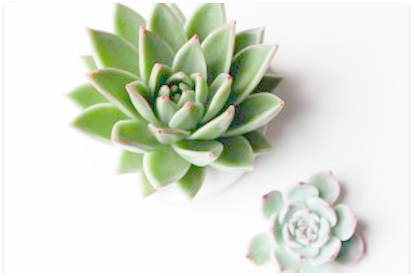 Click here to join the 30 Days to Organized Community!
Get weekly encouragement & 10 Minute Organizing Tips
PLUS access to our Organizing and Printable Library including:
10 Minutes a Day Declutter Calendar — focus on one small area each day of the month
50 Ten Minute Tasks – to organize your life one baby step at a time
10 Minute Task Calendar – blank calendar to fill in your own 10 Minute Tasks

Click here for more DEALS & FREEBIES to help you save money!
*Affiliate links are included in this post. Read our disclosure policy here for more information.