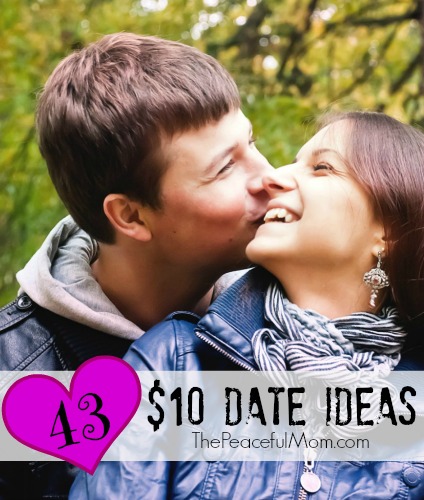 $10 Date Ideas
Having a weekly Date Night is a great way to keep your marriage relationship strong and create fun memories with your spouse (read more about the benefits of a weekly date night here), and dating doesn't have to be expensive.
We make extra money for dates using our favorite online survey sites including MyPoints and Swagbucks.
Click here to see how you can make date money too!
Check out this list of $10 Date Ideas to get your creative juices flowing:
Dates at Home 
Cook a special recipe together.
Have a nighttime candlelight picnic in your backyard.
Watch funny videos on You Tube and then make your own crazy video.
Invite another couple over for game night and snacks.
Create a "bucket list" together.
Plan a dream vacation and make a Pinterest Board for it.
Look at your wedding photos while enjoying a cheese and wine picnic on your living room floor.
Play Mad Libs.
Visit the City
Take an architecture tour of a nearby city — visit historical buildings and research their history online.
Attend free museum days in a nearby city.
Find an observatory and attend a free night.
Visit the downtown library and check out something you would not normally read or watch.
Discover outdoor art installations in your city.
Enjoy the Great Outdoors
Rent a canoe or kayak. (Rentals in national parks may be cheaper.)
Hike in a national forest.
Enjoy a picnic in the park and read short stories to each other.
Have a water gun fight.
Go fishing.
Play football in the backyard.
Go Shopping
Go "window shopping" for furniture. IKEA is especially fun and you can even create new names for the pieces you want to buy.
Visit the dollar store and buy something crazy for each other for $1.00. Use the remaining $8.00 to split a sub sandwich or buy milkshakes.
Try on crazy outfits at the thrift store.
Go to a farmers market and buy $10 worth of ingredients to make dinner at home.
Visit a used bookstore and spend $5 each.
Learn Something New
Take a gardening class through your local Extension Service.
Check local colleges and universities for free lectures, musical performances and plays.
Attend a free clinic at your local home improvement store.
Ask a friend to teach you a skill.
Find a free online course and take it together. (Learn how to greet someone in 5 foreign languages.)
Enjoy Cheap Entertainment
Take a roll of quarters to an arcade.
Go to a coffee shop with live music and have one cup of coffee each.
Find a discount movie theater. (We can see movies for $2.50 in our area).
Share a banana split at a fancy ice cream shop.
Play pool at a local bar.
Play Sports
Play one-on-one basketball or "horse".
Invite a couple for a doubles tennis match.
Play indoor racquetball.
Take an exercise class – many gyms will let you try a class for free.
Learn a new sport together.
Volunteer
Sing together at a nursing home.
Serve at a homeless soup kitchen.
Do yard work for a single mom.
Make a dessert for neighbors.
Walk dogs at a local pet shelter (check with the shelter first for rules).
If you need a little extra cash to pay for your dates you can use online survey sites. Click here for my top recommended online survey sites.)
You May Also Enjoy: