Quick Steps to a Clutter Free House
Hey Friend! I see you curled up in the fetal position because your house is covered up in piles of stuff. I've struggled with the same issue but I've found a couple of tricks that help me to keep our house clutter free so I want to share them with you too!
Personalize Storage Solutions
This first idea is so brilliant I can't even stand it. Mindy Starns Clark, author of the book The House That Cleans Itself learned that in order to keep her house clean she needed to look at the problem areas in her home and discover why they had become problem areas. She advises to start paying attention to how your family behaves in your house and create storage solutions that fit what your family is already doing.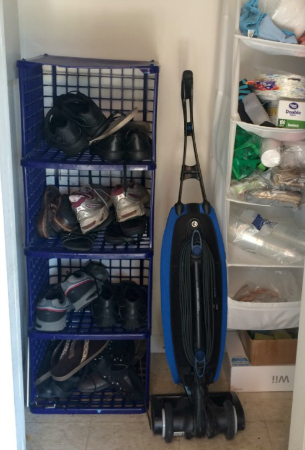 In our house, my hubby and kids love to take their shoes off the second they walk in the door which meant that I was constantly looking at piles of shoes on the floor and constantly feeling frustrated. I solved the problem by placing an inexpensive shelving unit in our entryway closet and training everyone to place their shoes just a step away in the closet rather than leaving them at the door.
Yes, the shoes sometimes end up in a pile on the floor of the closet instead of on the shelves, but it's behind closed doors so I don't mind.