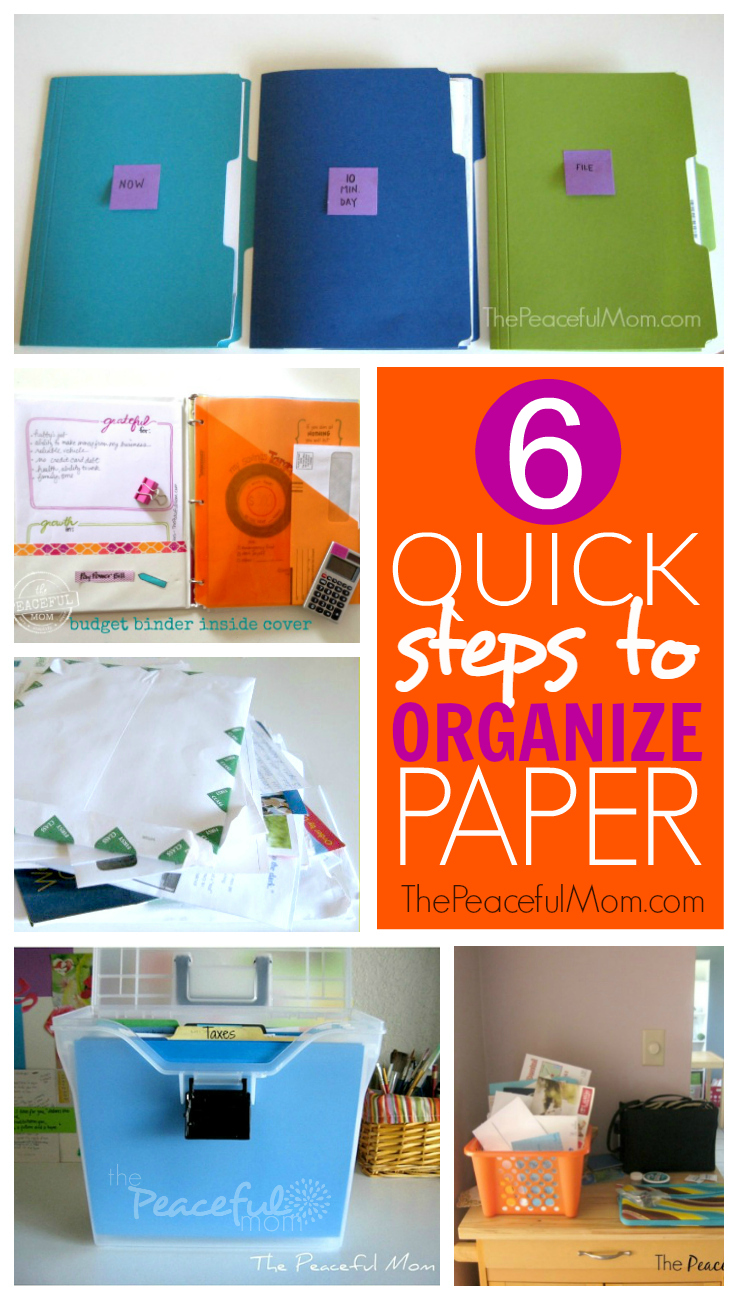 Drowning in paper? Let me show you how to organize paper quickly — in just 5 to 10 minutes a day. PLUS enter a fun giveaway at the end of the post!
The Paper Problem
Paper, paper, paper. It's everywhere, coming into our homes on a daily basis from mail to magazines, newspapers to notices, school calendars to sales flyers.
And because the paper is flowing into your house at such a fast rate, you need to have systems to deal with it or you can quickly become overwhelmed.
How to Organize Paper Quickly
To organize your paper piles, follow these simple steps.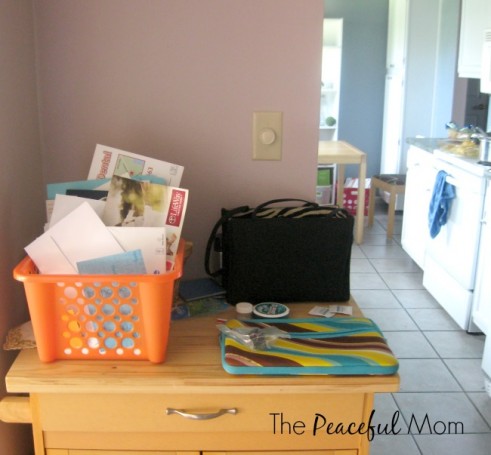 Create an Inbox
One of the basic tenets of organization is "A place for everything and everything in its place." Part of the problem with paper is that it comes from different sources and we tend to pile it in multiple spots in our home. The mail ends up on the entry way table; kids' school papers on the kitchen counter and bills on the dining room table.
But all of these piles represent a mental and emotional drain on you because your space is cluttered and the papers remind you that you need to take some kind of action.
Your first step is to immediately decrease your stress by creating a specific "home" for all of your papers. I suggest a shallow basket, box or bin on your desk or near the area where you do your paperwork. Once the paper comes into the house, it goes into the inbox.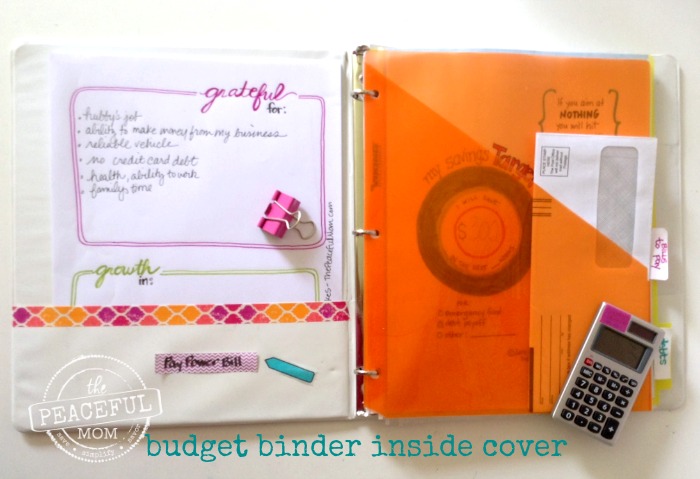 Set Up Binders & Files
Your next step is to set up binders or files for the main categories of papers that are coming into your home. Start with the following basic categories and add additional binders or files if necessary.
Home Binder – This binder is for home maintenance records, contact information for services you use and
Budget Binder- Use this binder to track expenses, file bills to be paid, and set financial goals. Read How to Make a Budget Binder for details.
Official Records –  This binder or filing system is for official documents like social security cards; financial records like deeds and tax returns; and other important papers like medical records. Read How to Set Up an Essential Papers File.
Kids' School Paperwork- Use this binder to hold all of the school papers you need to reference. For more information, read How to Organize School Papers.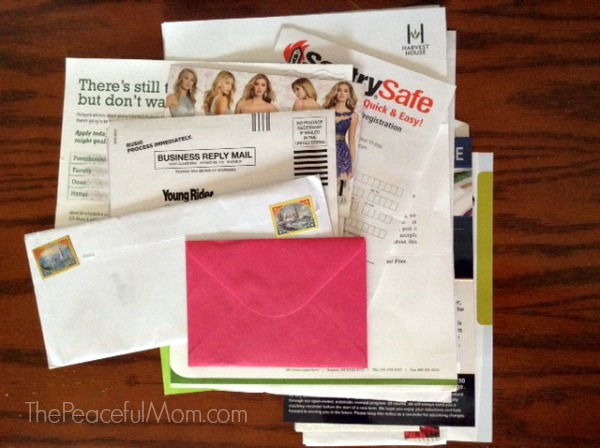 Process Paper Immediately
Once you've created "homes" for your paper, your next step is to create the habit of processing paper immediately. All those papers fall into five basic categories:
Trash – papers that can go immediately into the trash bin such as solicitations, junk mail, etc.;
Shred – papers with personal information like credit card applications;
Reference – papers you need to look at again such as school menus or calendars;
Record-Keeping- papers that need to be filed and kept for a certain period of time such as tax returns;
Action – papers that require you to take an action such as bills that need to be paid, invitations, letters you need to respond to.
When paper comes into your home, if it falls into one of the first four categories you can process it within five minutes or less. For example, I open mail immediately, throw away any trash, place items to be shredded in a box in my office and place papers that require action or need to be filed in my inbox.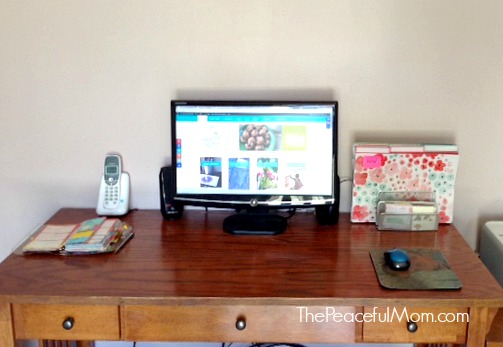 Schedule "Desk Day"
Once you have a place to keep your papers, and you've established the habit of processing paper immediately, your next step is to schedule a time to for filing and taking care of action items.
Friday is payday so I have chosen that day as my "desk day", the day when I process all of the papers each week. I pay bills that are due the next week, and place bills with a later due date in the front pocket of my budget binder. I then mark the date on the pay day before the due date on my calendar to make sure I avoid late fees.
I also take care of any papers that need to be filed. If I don't have time to file them immediately, I place them in my "To Be Filed" folder which stays on the shelf next to my desk.
Eliminate Paper Whenever Possible
In the past I used a printable grocery list and printable meal planner on my fridge, and you should continue to do that if it works for you. I have found that using the Evernote app to keep my shopping list and menu for the week simplifies my life because my phone (and the app) are always with me. I also use Evernote to create a master to-do list for home and business, and to help plan my week.
You can read more about how I use Evernote HERE and sign up for free.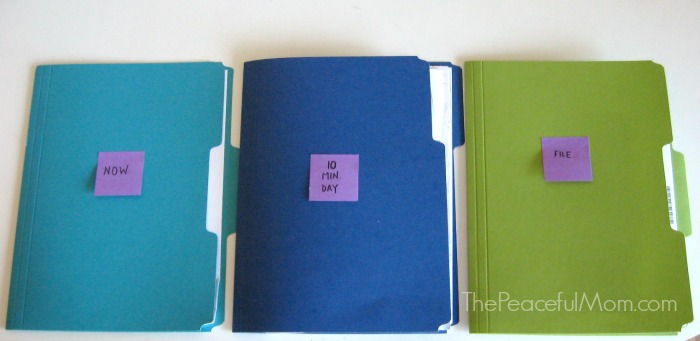 Deal With Your Backlog
If you have a huge pile of papers that you need to work through, you are not alone. I had a paper pileup after I was involved in a car accident. Once everything calmed down, I created the 10 Minute Paper Pile Fix to help me quickly get a grip on the backlog.
You can read the details of the 10 Minute Paper Pile Fix HERE.
If paper is a huge problem in your life, you may want to check out The Paperless Home: How to Use Evernote to Organize Your Life by Abby Lawson.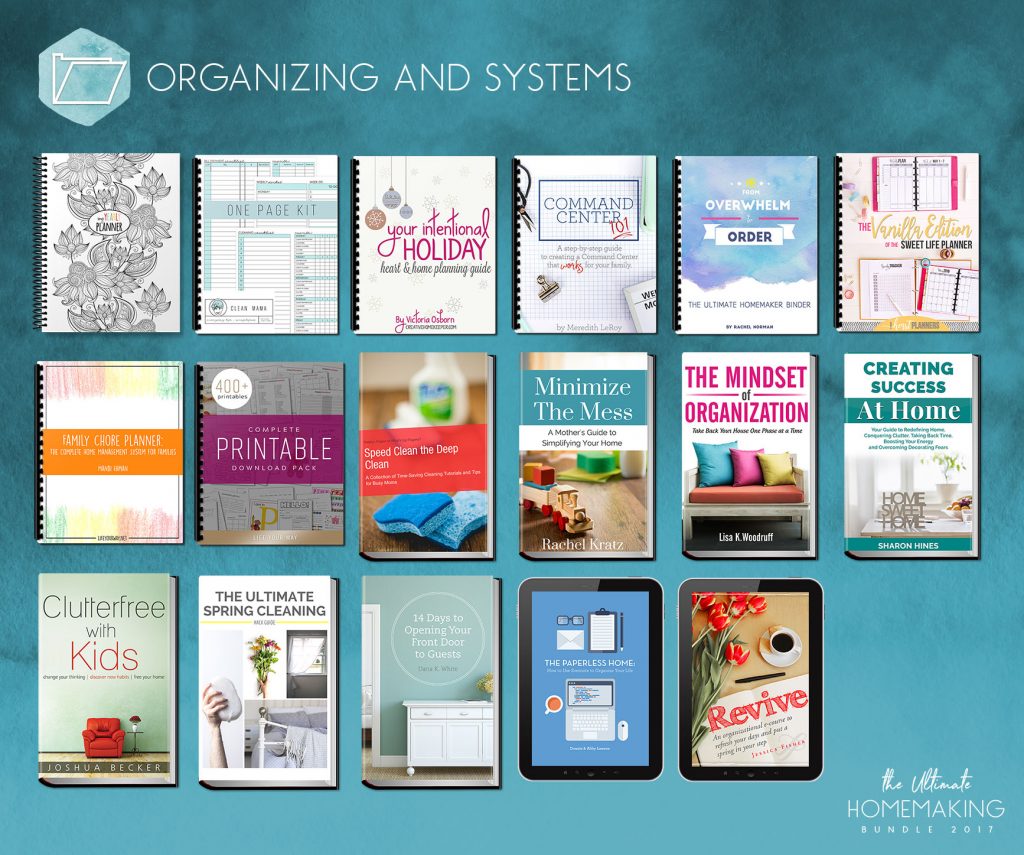 It's an e-Course that's part of the 2017 Ultimate Homemaking Bundle available right now.

But hurry, because it ends in:

If you decide that the bundle is right for you, come back to this page and click HERE to grab my Ultimate Bundle bonus gifts:
2017 Ultimate Homemaking Bundle Quick Start – I've done the work for you by looking through every resource in the bundle and creating simple step-by-step plans to help you quickly work through the best resources in the bundle to reach your goals, plus a list of my favorite resources to check out when you have time.
How to Create a Morning Routine That Works for You – A short and sweet mini-course to help you start you mornings sunny side up so you can be more productive and joyful all day.
10 Daily Habits That Will Save You $1000's – Begin to implement these ten simple habits into your life and slash your budget immediately.
Just for fun (and to encourage you to clear your desk!), I'm giving away this cute stationery set from Target and a $25 Target gift card.
To enter to win:
Leave a comment on this post telling me your favorite paper organizing tip or how you would use the Target gift card. (eMail readers will need to click through the title of this post then scroll to the bottom of the post to leave a comment.)
Contest Rules:
One entry per person. Contest ends Monday, May 1st at 9 a.m. EST and is open to U.S. residents only. One winner will be randomly selected from the comments on this post and notified by email.
Here's to Purging the Paper Piles!

  You May Also Enjoy: