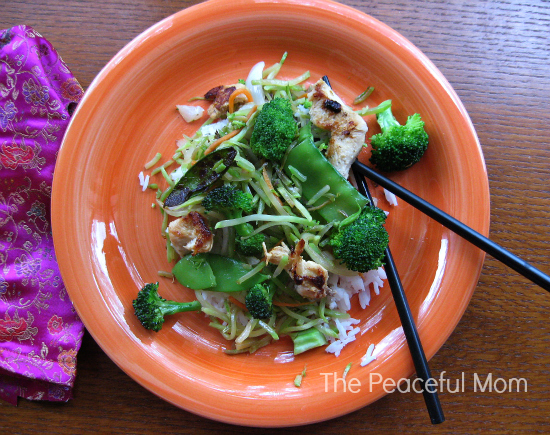 Easy Gluten Free Chicken Stir-Fry Recipe-One of my favorite ways to whip up an easy dinner is to make a stir-fry. It's great in the summer because you don't have to heat up the kitchen by baking something in the oven, and it's an awesome way to get those veggies in!
To be honest, I usually just add a few tablespoons of extra virgin olive or coconut oil to the pan, saute my veggies for a few minutes and then add my chicken or steak strips. I personally enjoy the simplicity of the veggies and meat without any sauce, but most of my family adds soy sauce.
If you like more of an Asian flavor in your stir-fry, try this recipe:
Easy Gluten Free Chicken Stir-Fry Recipe
2 tablespoons extra virgin olive oil
1 tablespoon sesame oil (optional)
2 boneless, skinless chicken breasts, cut into 1/2-inch pieces
(2) 12 oz. bags fresh stir-fry vegetables (we like Eat Smart Vegetables)
or 3 cups of stir-fry vegetables of your choice (broccoli, snow peas, carrots, etc.)
1/2 medium onion thinly sliced
Sauce
1 cup chicken broth (check label to make sure it is gluten free)
2 tablespoons gluten free soy sauce
1/2 teaspoon powdered ginger
1/2 teaspoon garlic powder (not garlic salt)
2 tablespoons cornstarch
Instructions
In a large skillet, heat the oils over medium-high heat.
Add the vegetables and onion, and cook for 3-5 minutes, stirring often.
Remove vegetables to a separate bowl.
Add the chicken to the skillet and cook for 4 to 5 minutes or until lightly browned.
Return vegetables to the pan with the chicken and cook for an additional 2-3 minutes until slightly softened, but still crispy.
Combine sauce ingredients and add to the chicken mixture in the pan.
Bring sauce to a boil and then reduce heat to medium or medium low and simmer about 4 minutes, or until sauce thickens.
Stir well to coat the meat and vegetables with the sauce.
Serve immediately over hot cooked rice.
I'm linking up at Tasty Tuesday and Gluten Free Wednesdays!
I'm also linking up to GF Tuesday at Easy Green Mama!
You May Also Enjoy: