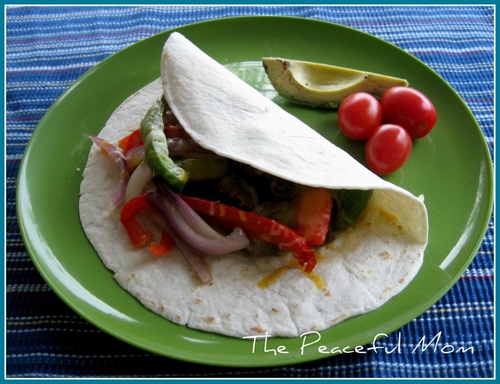 Steak Fajitas Recipe: Whenever I find sirloin or flank steak on sale I buy it to make these delicious steak fajitas. (You can also buy sirloin roast on sale and have your butcher cut it into strips for you.)
A tasty recipe from The Peaceful Mom
Ingredients
1 lb sirloin or flank steak cut into strips
steak marinade (see below)
1 large red onion (or two medium), cut into slices
2 medium green or red bell peppers, stemmed, seeded and sliced lengthwise
2 tablespoons olive oil
8 flour tortillas (use corn to make this gluten free)
avocado slices (optional)
sour cream (optional)
shredded cheese (optional)
Instructions
Make steak marinade by combining the juice of one lime, three tablespoons olive oil, 1 clove garlic minced, 1/2 teaspoon cumin, 1/4 teaspoon salt and 1/4 cup chopped fresh cilantro.
Pour marinade over steak and marinate for 1 to 4 hours in the refrigerator.
Heat skillet to medium high heat.
Add 2 tablespoons oil and pepper slices to skillet and cook for 2 minutes.
Add onions and cook until they are almost translucent.
Move vegetables to the sides of pan and add steak strips.
Turn heat to high and cook steak until browned and cooked to medium well doneness.
Remove skillet from heat.
Place steak and vegetable mixture on tortillas and top with desired garnish.
http://thepeacefulmom.com/2012/02/15/steak-fajitas-recipe/
You May Also Enjoy:
I am linking up at Tasty Tuesday!