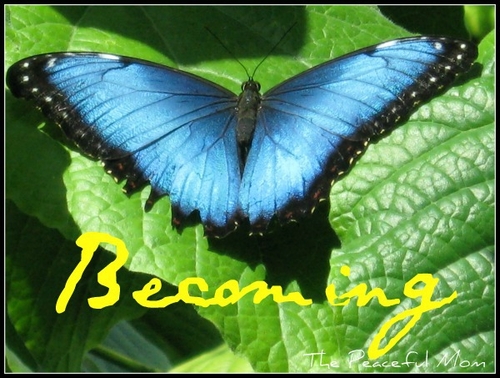 become verb  to change, to grow, to come into being
Welcome back to the Becoming Series! You can read the previous posts in this series here.
(Note: I apologize for the length of time since the last post. It has been a very busy season for our family! Thanks for your patience!

)
If you read my previous posts in this series you know that I was severely physically and sexually abused as a child. I am sharing transparently about the realities of this trauma in my life because I want to give hope to those who have gone through similar circumstances. God is faithful to heal EVERY effect of the pain in our lives.
As I began my healing journey, one of the first issues that my counselor confronted me with was that of forgiveness. Honestly at that time I could not even grasp the concept of forgiveness. The hatred that burned in me was well justified. If my abuser had been tried in a court of law I am sure that he would have been convicted and given the death penalty for the horrible acts he perpetrated against me as an innocent and trusting child. Forgiving something so heinous was humanly impossible.
No matter who the abuser is, sexual abuse is always devastating, but there is an added trauma when the abuser is a relative or close family friend. I personally was abused by a close family member and it made forgiveness even more difficult because my trust in our relationship had been so violated.
I felt that I was holding my abuser accountable by continuing my anger and rage. He had stolen my innocence and I demanded that he pay for what he had taken.
The only problem with this plan was that holding on to all that hatred and bitterness affected my life, but had no effect on the one that I was trying to hurt. My entire life was filled with an acid that spilled on to others. The very thing that I needed was relationship with caring people, but my bitterness pushed everyone away.
Unforgiveness is a prison which you build for your abuser brick by brick, only to find that once it's built you are the one locked in the cell. 
My first step out of that prison was acknowledging that the unforgiveness was hurting me and asking God to enable me to forgive. My early prayers went something like this,"God, I hate ____ for abusing me and I don't want to forgive him. I don't like You very much either for wanting me to forgive him, but I know that You love me and want what's best for me. Help me to forgive."
I felt some sense of release at that point, but as time went on and I asked God to help me forgive I actually felt more and more freedom. At some point I realized that I could say,"I forgive ____ for sexually abusing me." It felt strange at first, but as I continued to declare my forgiveness of my abuser, the more joy, peace and freedom I felt inside. I can tell you that today God has actually given me a love for the man who did those horrible things to me. That is a miracle!
I need to say at this point that although I have forgiven this man with God's help, I still have very firm boundaries. He is a relative but because he will not acknowledge the abuse and has shown no remorse, I do not have contact with him at this time. In the event that we are in contact in the future, my children will never be allowed to visit with him without supervision because he has not proven himself trustworthy.
If you are on the other side of this issue and still unable to consider forgiving your abuser, may I suggest starting where I did? Talk to God about how you hate your abuser and don't want to forgive. At least you are acknowledging the truth.
With the help of God and others you can deal with those painful emotions. The freedom, joy and peace that you will experience is well worth the pain of facing the truth. Don't keep yourself locked in a prison when you hold the keys to get out.
I would love to hear feedback on this issue. Has forgiveness made a difference in your life? Please leave a comment.
You May Also Enjoy: