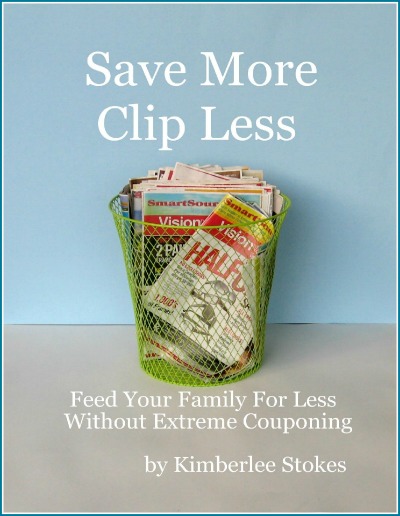 My new e-book Save More-Clip Less: Feed Your Family For Less Without Extreme Couponing is finally finished!
In this 40 page e-book I share my story of recovery from extreme couponing, as well as lots of practical tips to save on groceries without using coupons.
In Save More-Clip Less you will learn:

*What Grocery Stores Don't Want You to Know

*One Key To Save Hundreds of Dollars A Year

*Specific Shopping Strategies to Save More

*The Primary Obstacle to Saving Money

*Hot Tips for Saving on Meat, Dairy and Produce Items
The Appendix has a printable shopping list, meal ideas and links to helpful resources on my website.
Here's what readers are saying:
"I downloaded your book and really enjoyed it. There were some great ideas I hadn't considered before."
"Wonderful e-book. It's just what I really needed to read. I have been so stressed out that I spent so much time discovering ways to save, but then feel so guilty when I don't implement them. It's nice to be able to let that go, not pressuring myself into becoming one of those extreme couponers. Thank you!"
"Just want to thank you for all your insight and knowledge. I have planned 2 weeks of menus and most of the ingredients I already have on hand. Have a grocery list for the rest and am feeling ready to take on this next week! Thanks for the inspiration!"
And Blogger Cammy says,
"In Save More–Clip Less, author/blogger Kimberlee Stokes (The Peaceful Mom) shares her strategies for maximizing grocery shopping dollars. Her perspective is unique in that Kimberlee is a "reformed" extreme couponer. She describes the problems she had with the extreme side and how she moved to a healthier approach both to shopping and feeding her family.
Even without a family to feed, I found the information in the book to be well-organized and informative. Included are shopping tips, as well as menu planning tips, printables, and online resources."
The best part? The ebook is only $5.00 and you can save $2.00 when you use promo code: SaveMore at checkout!
Click the "add to cart" button below to purchase and download!
(If you arrived here from a previously posted link, please note that the ebook was offered for free as a promotion during 2012, but is now for sale. I promise that you will save much more than the cost of the book by following the ideas included in it!)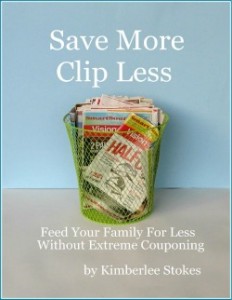 $5.00
($3.00 with promo code SaveMore)
Also, please let me know what you think by leaving a comment here.
Happy Saving!

*NOTE: If you would like to share this e-book, please share the link to this post rather than the link to the e-book.  Thanks!

*If you do not have Adobe Reader to read pdf files, you can download it for FREE here.
I'm linking up at Smockity Frocks!