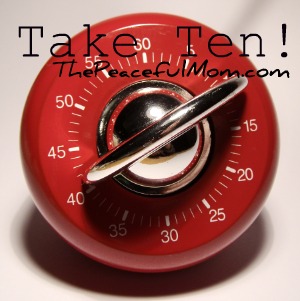 "It's only ten minutes. Why bother?"
Because ten minutes can change your life. 
Life with children is busy and complicated no matter what stage you're in, and my life is no different. We do have some extra challenging issues though: a teenage son with a diagnosed autism spectrum disorder, another daughter who is undiagnosed but shows signs of Aspergers, a daughter with a wheat allergy, a very tight budget and the stress of having moved to another state in the last few months.
With all of this stress, I found myself with projects that I didn't want to take care of because they overwhelmed me. Just living daily life left me feeling tired and unmotivated to take care of responsibilities, especially if those responsibilities took more than two minutes to handle!  I found a solution though: Take TenTM (ten minutes a day) Projects.
Here's why Take TenTM Works:
Ten Minute Projects Are Do-able
Breaking those daunting projects into smaller parts keeps me from being overwhelmed. Sure, I can live in denial and just not think about them, but choosing not to deal with reality means problems later. There is always a consequence for inaction, even though it usually doesn't come immediately. Working for only ten minutes seems achievable.
Ten Minute Projects Bring Focus
Sometimes I fail to work on projects because I am distracted by other things. Taking ten minutes to focus on only one task helps me to get more done. I usually end up spending more time because I am concentrating on that one area rather than trying to accomplish several things at once.
Ten Minute Projects Break Procrastination
I procrastinate because projects seem too big or too hard or too time-consuming to take on. By just doing something on the project I break procrastination's hold and get some momentum going. I am much more likely to spend time on it later because I have already broken through the hardest part: getting started.
Is there an area in your life in which you have been procrastinating? Is there something that you know has to be done, but you stay busy doing other activities so you don't have to face it?  That is the project to get started on this week.
Simply face the issue and do something on it for ten minutes starting today.
This week I'll be working ten minutes a day on a writing project that I know I need to complete, but which I have ignored because it overwhelmed me. I'm not placing any expectations on myself, only committing to diligently work for ten minutes a day every day this week (Monday-Saturday, resting on Sunday).
If the ten minutes turns into something more, fine. If not, then by the end of the week I will have worked 60 minutes or one hour on my project. Want to join me?
If you want some accountability, leave a comment about what you're committing to this week and we can all check in at the end of the week to see how we did.
Happy Avoiding Procrastination Week!
You May Also Like: