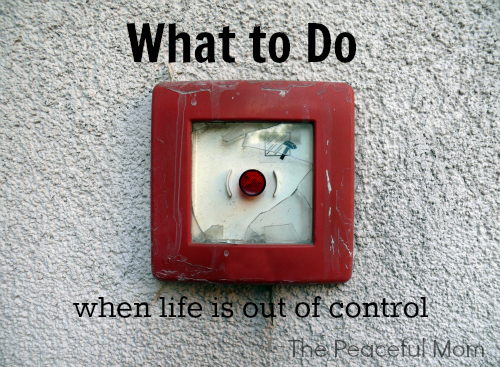 photo credit Plosz Zoltan

What do you do when life is spinning out of control?
Sometimes life circumstances become overwhelming and we don't know where to start. If life is crazy for you right now, try my emergency plan for regaining control:
STOP- Get away to a quiet place with some paper and a pen. Write down everything that is bothering you without editing-just write as it comes.
PRAY- Ask God for insight into the issues in your family and for help to solve the problems.
LIST-Make a list of things that need to be done. I usually do this simultaneously with my writing–when things come to mind I write them on the margin of my paper.
DECIDE-Decide what issues you can do something about (ex: I can't control my son's Aspergers, but I can make sure that I get enough rest, find someone to talk to and give him appropriate boundaries.). I find it helpful to talk through these issues with a friend in order to gain perspective.
PRIORITIZE-Consider what issues are important versus what issues are urgent. A flat tire is urgent if you need to go somewhere, but your relationship with your child is important. Place priority on important issues first.
PLAN-Make an action plan for each area. I usually divide a piece of paper into several sections such as Husband, Children, Finances, Household, Paperwork, Errands. I then fill in each section with the important things that need to be done in each area. [Use this FREE Printable Weekly Goal Planner.]
DIVIDE AND CONQUER-Divide your action plan into small steps. After I list my action steps in order of priority, I like to take my calendar and actually schedule time for each step that I need to take or I use this Weekly Planner form. I try to work with only one week at a time and place longer term projects on a sticky note that I can move to the next week if items are not accomplished.
REVIEW- Read your plan every morning and follow the steps you have outlined.
Taking time to rest and organize your thoughts really helps to take away the overwhelming emotions that accompany high stress times. Just remember to take one step at a time. You can't eat that elephant in one day!
©2010 The Peaceful Mom-No material on this website may be reprinted in any form without the express written consent of the author, but please feel free to share a link with credit given to ThePeacefulMom.com. Please note that this post is not intended as professional advice but simply the author's personal opinion. You should seek professional advice if your circumstances require it.


You May Also Like:
Everybody Needs A Good Fence (Boundaries)