Previous generations had some wisdom we can use today.
Did you ever hear your grandmother talk about "Wash Day"?
"Wash Day" is a term leftover from the time when women had the same daily tasks modern women have, but none of the help.  "Kitchenaid" didn't exist and "whirlpool" was a natural phenomenon, not an appliance brand. In order to handle the enormous work load, women focused on one major task a day.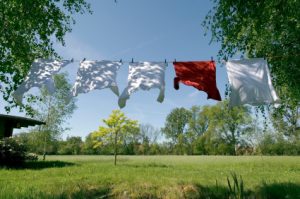 The same principle can be used today to organize life into manageable pieces. Focusing on one major project each day simplifies your life because you don't start over every day with the same to do list.
Having a structure to your week enables you to focus on the task at hand and helps you to accomplish more. Thank goodness it no longer involves hand wringing the clothes!
To see how I schedule my week, read the next article in the Get Organized Series:

Click here to read more articles in this series.

©2010 The Peaceful Mom-No material on this website may be reprinted in any form without the express written consent of the author.   Please note that this post is not intended as professional advice but simply the author's personal opinion.  You should seek professional advice if your circumstances require it.