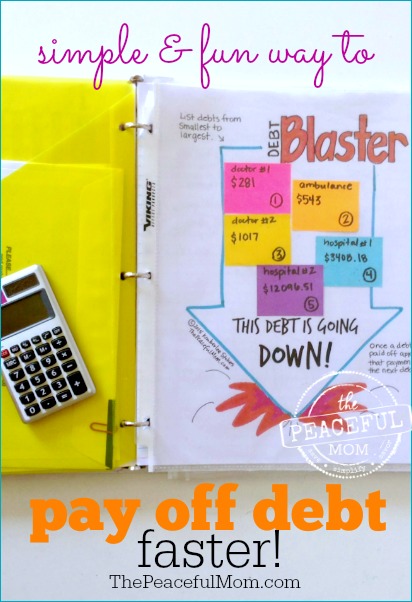 In my last post I shared my Simple DIY Budget Binder, or what I like to call my Money GPS because it gives us direction to reach our financial destination. Part of reaching that destination is becoming debt-free.
After over 10 years of being debt-free we now owe over $18,000 thanks to my daughter's accident last October and my subsequent auto accident in February when a drunk driver rear-ended our car (which totaled it) and ran off into the woods. While my daughter and I have recovered well, our finances haven't.
When faced with such huge numbers it is easy to become discouraged but I have decided to make our debt payoff into a game which is much more motivational and encouraging than thinking about the overwhelming weight of the debt.
[Note: Before beginning our debt repayment plan we saved $1000 into an emergency fund, which is even more crucial in our circumstances because we do not have credit cards to use in the event of an emergency.]