Every December we enjoy counting down the days until Christmas with fun and creative activities. If you'd like to have fun with your family this December, check out these resources: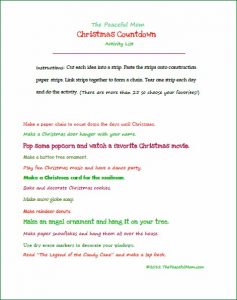 FREE Printable Activities
The Peaceful Mom Christmas Countdown Activities — Print the Activity list and use it to make a paper chain. Links for the activities are included on the page.
The Peaceful Mom Advent Activity List — This list is similar to the Christmas Countdown, but includes more spiritual ideas.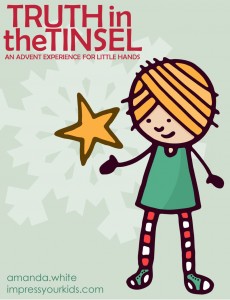 Advent Studies
Truth in the Tinsel — Scripture reading, simple ornament crafts, talking points and extension activities including printables and templates. Click here to purchase and download.
The Promises —  Click here to read more and get a 10% Off code good today November 30th ONLY!
Calendar Alternatives
Candy on a String –Hershey's Kisses or candy canes glued on a ribbon. (Thanks Jenny!)
Pretty Boxes –Wrap jewelry or other small boxes in Christmas paper and insert a small treat or a clue as to where to find one). Paste one number on top of each box for the days leading up to December 25th.
Tiny Cards –Write one activity or Bible Verse on each of 25 small cards (such as gift tags), place the cards in small envelopes and write the numbers 1-25 on the outside.
Pocket Advent with Gum — My Little Mochi has the cutest idea for a pocket countdown using gum.
Advent Calendar Tree —  Chris hangs tiny buckets filled with treats on a miniature Christmas Tree.
In addition to starting our Christmas Countdown I will be working on a couple of other projects.
My plan for this week:
(Read more details about how I plan here.)